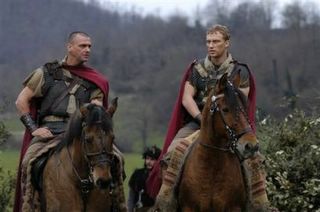 HBO's Rome
Rome September Episodes
Episode #2: "How Titus Pullo Brought Down the Republic"
Debut date: SUNDAY, SEPT. 4 (/PT)
Other HBO playdates: Sept. 6 (), 7 (), 8 (), 9 (), 10 (/), 11 () and 16 ()
HBO2 playdates: Sept. 4 (), 5 (), and 12 ()
Anointed People's Tribune by Caesar (Ciarán Hinds), Mark Antony (James Purefoy) returns to Rome with Octavian's (Max Pirkis) liberators, Vorenus (Kevin McKidd) and Pullo (Ray Stevenson). After being feted by a grateful Atia (Polly Walker), Vorenus heads home to his family for the first time in eight years, while Pullo heads for the brothels. Shocked to see a husband she thought was dead, Vorenus' wife Niobe (Indira Varma) presents him with a family he barely recognizes. After the Senate rebuffs Caesar's "compromise" for a heroic return to Rome, Antony learns Pompey (Kenneth Cranham) has drafted an ultimatum stripping the general of his power. With tempers on both sides reaching a boiling point, unfinished business involving Pullo spawns a Forum melee that all but ensures an unhappy outcome in the Pompey-Caesar standoff - and sends Pullo and an injured Vorenus back into Caesar's ranks.
Written by Bruno Heller; directed by Michael Apted.

Episode #3: "An Owl in a Thornbush"
Debut date: SUNDAY, SEPT. 11 ()
Other HBO playdates: Sept. 13 (), 14 (), 15 (), 16 (), 17 () and 18 ()
HBO2 playdates: Sept. 11 (), 12 () and 19 ()
Scouting for Caesar some 30 miles from Rome, Pullo, Vorenus and some Ubian soldiers meet minimal resistance from a green group of Pompey recruits. Alarmed at the speed with which Caesar's army has advanced, and with a less-than-full complement of soldiers at his disposal, Pompey makes an unusual tactical decision: abandon Rome to Caesar, at least temporarily. The order forces patrician families to choose sides - while Servilia (Lindsay Duncan), Caesar's longtime lover, decides to stay in Rome, her son, Marcus Junius Brutus (Tobias Menzies), flees the city with others faithful to Pompey. After seeing her family's fortunes fall and rise in the course of a few hours, Atia enlists her mercenary, Timon (Lee Boardman), to ensure her family's security. As Vorenus marvels that Rome has been left undefended, Pullo sees his uncanny good fortune continue after his unit intercepts a cargo wagon on the city's outskirts.
Written by Bruno Heller; directed by Michael Apted.

Episode #4: "Stealing from Saturn"
Debut date: SUNDAY, SEPT. 18 ()
Other HBO playdates: Sept. 20 (), 21 (), 22 (), 23 (), 24 () and 25 (), and Oct. 7 ()
HBO2 playdates: Sept. 18 (), 19 () and 26 ()
As Pompey "maneuvers" outside the city, Caesar seeks to consolidate his hold on Rome. Atia throws a party to welcome Caesar home, while Vorenus throws one of his own to usher in his new life as a citizen businessman. Pullo's run of luck continues when he delivers Quintus Pompey (Rick Warden) to Caesar, who in turn returns Quintus to his father's camp - with an offer of truce he knows Pompey will never accept.
Written by Bruno Heller; directed by Julian Farino.

Episode #5: "The Ram Has Touched the Wall"
Debut date: SUNDAY, SEPT. 25 ()
Other HBO playdates: Sept. 27 (), 28 (), 29 () and 30 (), and Oct. 2 () and 7 ()
HBO2 playdates: Sept. 25 () and 26 ()
Caesar weighs Pompey's counteroffer against Antony's recommendation to chase down Pompey's vulnerable army. Vorenus is forced to reconsider his career choices after a series of business setbacks leave him with little income to support his family. A jealous Atia concocts a clever scheme to separate Caesar from Servilia. Pullo is recruited to tutor Octavian in the art of soldiering, but ends up learning a lesson or two from the boy.
Written by Bruno Heller; directed by Allen Coulter.

Rome is a co-production of HBO and the BBC; co-creators, John Milius and William J. Macdonald and Bruno Heller; executive producers, Bruno Heller, William J. Macdonald, John Milius, Anne Thomopoulos and Frank Doelger; co-executive producers, Jim Dyer and Eugene Kelly; produced by Marco Valerio Pugini; consulting producer, Michael Apted; production designer, Joseph Bennett; costume designer, April Ferry; casting, Nina Gold, Nina Gold & Associates.