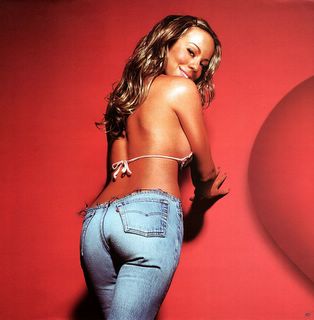 Mariah Carey may be wearing Red-Tab Levis here, but she's expected to wear Hudson Jeans to the Teen Choice Awards.
Carey Goes For Hudson
Mariah Carey is expected to wear Hudson jeans to the 2005 Teen Choice Awards. She will be wearing a pair of Hudson's signature jeans to the event, where she is nominated for Choice Music Female Artist and Choice Music R&B Artist.
Hudson jeans' fabrics are from the US, Japan and Europe. Each pant is hand-finished and treated in the companies' own factory, so each pair is individual, each pair is unique. From the washes and rinses to the distressed effects on the seams and pockets, no two pairs are alike. For those with extra-long legs, Hudson has created the "Supermodel" jean. Designed with a longer inseam, this style is a new favorite for consumers who like their denim long and lean.
Hudson jeans are available in select boutiques and department stores nationwide, including Fred Segal, one of the acknowledged leaders in carrying the latest in fashion denim. Hudson is one of the top selling jeans in the Santa Monica location. Hudson is also sold at Kitson and Fred Segal Santa Monica in Los Angeles; E Street Denim in Chicago; National Denim, Bergdorf Goodman and Searle in New York.