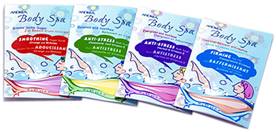 Body Spa bath packets: Just one of many in the "Hunter's Widows" gift bag
Hunter Widows Get Gifted
Pittsburgh's country radio station, Y108, recently held their Third Annual Hunter's Widow Luncheon hosted by morning radio personality Chris DeCarlo from the Y108 Country Crew. "Hunter's Widows" – women abandoned by their hubbies during hunting season – were invited to call into the station and win an invite to the luncheon and be registered for prizes including spa products provided by American International Industries, a Roomba Ibot, and one grand prize widow won a trip to Niagra Falls.
All the attendees received gift bags provided by AII that included brow products from Ardell®, nail care products from 5-Second Nail Cosmetics®, home waxing systems from Surgi-Wax®, face, foot and body spa packettes from Andrea® and a select few also received the China Glaze® Visions of Grandeur nine-piece collection.
This collaboration between AII and Y108 happened when Chris DeCarlo revealed she is a long-time user and fan of Surgi-Wax®. "I love Surgi-Wax! It is the best product for hair removal and doesn't take much practice to become proficient at doing it yourself. I've used the leg wax, the Brazilian kits and the smaller facial wax for my brows. All of it is fabulous."
DeCarlo's favorite products are at www.y108.com – click on Chris' Favorite Things.

Girly Gift Basket products:
Ardell® brow products provide everything for a perfectly defined brow in seconds. Even the novice makeup artist can create elegant brows. Treat, shape, color, groom, and accessorize … Beautiful Brows in Seconds! All brow products are available nationwide through drugstores and retail for around $4.00.
5-Second Nail Cosmetics® has a whole line of Quickie products ideal for great looking at-home manicures in an instant. The product line includes Quickie Nail Fix, Cuticle Remover, Cuticle Conditioner, Nail Dry and Bite Free Nail Treatment, Nail Saver Strengthening Treatment and Glue Remover. It's the No. 1 seller and most recognized nail glue in the professional beauty industry. All 5-Second products are available nationwide through drugstores, prices vary by product.
Surgi-Wax® offers numerous depilatory, wax and bleach formulations to meet the needs of every consumer. These products include body and facial hair removal strips, eyebrow shaping epilating strips, depilatory creams for the legs and bikini areas, an extra-gentle depilatory formula for sensitive facial skin, a moisturizing hair removal lotion with cocoa butter, microwavable wax preparations for fast and easy waxing of unwanted facial and body hair and gentle bleaches that lighten hair to make it less noticeable. All Surgi products are available nationwide through drugstores, prices vary by product.
Since 1963, Andrea® has provided retail and professional customers with distinctive and high quality body, face, eye and nail-care products. Most famous for its 100% human hair faux eyelashes, depilatories, bleaches and Beauty Q's lines, Andrea supplies women around the globe with innovative, reliable and affordable beauty solutions.
Spa Body Spa and Foot Spa Packettes are perfect for home use or for travel. SRP: $.99 per packette at any drugstore.
The 2005 Fall/Winter Collection "Visions of Grandeur" from China Glaze® captures the Elegance of a bygone era that's been celebrated in recent films like Aviator and De-Lovely, returning to a day when Lavish Luxury and Femininity were ingrained into everyday wear. An array of light to dark lacquers, this season's collection is a Glamorous twist on a Seductive time period. Available only through professional salons or beauty supply stores.