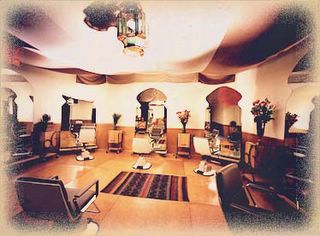 Steam
Get Conditioned
"Caring for and treating summer parched hair is one of the most important things a person can do to maintain their own radiant beauty and personal well being," says Carla Gentile of the Steam hair salon, who created "The Steam Creamy Dreamy Protein Treat."

The multi-step process includes:

1. A warm and relaxing shampoo to remove the dulling build-up from hair.

2. A good slathering of EC Mode Emergent-C Revitalizer, a conditioner enriched with super proteins, Vitamins E & C and special fresh dried nutrients.

3. Steam's special slathering technique includes an incredibly relaxing massage at their ergonomically designed and very comfortable shampoo bowl.

4. Under the hair dryer for five minutes as the conditioner's ingredients become activated by the heat and get to work on removing chlorine and other dulling agents. The heat-activated ingredients also work to induce shine and strengthen the hair.

5. The conditioner is rinsed and a healthy clear gloss is applied and combed through from root to end.

6. Back under the dryer. A refreshing Steam Lemonade is served with or without Hanger One Citron Vodka - your choice. 20 minutes will seal in the proteins and vitamins of the gloss.

7. The gloss is thoroughly rinsed and out the door with a towel-dried head of hair that now uses the sun for natural drying in order to ensure the long lasting benefits of the treatment.

The treatment costs $55.00.

Steam is a 2,200-square-foot salon designed by Keith Greco (he created the Little Door's atmosphere) and owned by Gentile. Its linen-tented ceiling, slipcovered mattresses--used as sofas--and intricately tiled color and shampoo areas are inspired by Turkish spas. "It's a very grounding place about truth, finding beauty from within and showing it on the outside," says Gentile. After hours, the salon often readings, yoga classes and dance instruction.
"The whole concept is about creativity and self-image," explains Gentile. "Doing different events helps inspire people to learn more about who they are." Clients--who include Third Eye Blind's Stephan Jenkins--also come in for cuts ($60-$100), color ($65 for a single process), highlights ($130-$170) or the signature four-step, 30-minute Steam treatment ($35): an essential-oil massage, followed by a gentle shampoo and a swish of protein-based conditioner, sealed in with a blast of steam. Think facial for the scalp. 314 N. Harper Ave., 323-966-0024. www.steam314.com