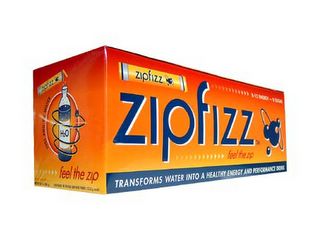 ZipFizz
Zip It Up
Forget the
Red Bull
– leave that to Britney and Demi. We tried
Zipfizz
, which offers less sugar and more nutritional value. You might want to tap into those memories of
Kool-Aid
, because you mix one tube of Zipfizz into your regular bottle of water. It's high in vitamin B-12 (a vitamin women are at
increased risk of being low in), high in antioxidants for immune support, replaces electrolytes with 30 times the potassium of a Gatorade, and is low-calorie without containing aspartame or artificial colors or flavors. Zipfizz gives a natural energy boost through nutritional science – incorporating ingredients such as vitamin B-12 and green tea leaf – that work together in balance for more alertness, focus, and clarity while supplying electrolytes, antioxidants and micronutrients.
Most people say the energy they feel from Zipfizz lasts from two to six hours. Since Zipfizz energy comes from nutrients instead of high levels of sugar, there aren't the spikes, jitters, and crashes that people complain about from other energy and sports drinks.
Zipfizz formula is created to balance 25 nutritional ingredients:
9 vitamins: Vitamins B3, B5, B6, B12, C, E and Folate.
8 minerals: Potassium, magnesium, calcium, zinc, selenium, manganese, chromium and sodium.
Electrolytes: Magnesium and potassium.
Amino Acids: Arginine and taurine.
Antioxidants: Green Tea Leaf extract, Alpha Lipoic Acid, Grape Seed extract, and Vitamins C and E.
The 4 G's:
Grape seed extract, Ginger, Green tea and Ginseng.
It's sugar-free. The primary sweetener in Zipfizz is Xylitol, a natural element that is produced by the body and occurs in a variety of fruits and plants. Not only is Xylitol a great, natural sweetener, it is also known to be beneficial for oral health. Studies of Xylitol have shown a great reduction in new tooth decay, in addition to the slowing and even reversal of some existing decay.
Xylitol has been used as an alternative to sugar since the 1960s.
Zipfizz also contains a very small amount of sucralose, making up less than 2 percent of
the total sweetener in Zipfizz.
Sucralose is derived from sugar, but is not metabolized by the body and carries no calories.
Zipfizz contains approximately one-fourth the caffeine found in a tall Starbucks® drip coffee.
The caffeine in Zipfizz is naturally extracted from green tea leaf and guarana seed.
Zipfizz gives a natural energy boost without the side effects normally associated with caffeine and sugar – that means no jitters, shakiness and no energy drop-off.
The first time, try it with 16-to-24 ounces of water, and then add more or less water according to your tastes. If using bottled water, be sure to first drink a sip out of the bottle to make room for the Zipfizz.
Don't mix Zipfizz with carbonated drinks, as they tend to overflow.