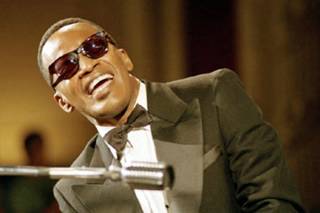 Jamie Foxx
as
Ray Charles
in "
Ray
."
Ray, the true story of the late music legend Ray Charles and his fight to control his own destiny, comes to DVD and VHS on February 1, 2005. Ray is nominated for two Golden Globe® Awards including "Best Picture"* and "Best Actor" (Jamie Foxx). The Screen Actors Guild (SAG) nominated Ray for "Best Performance by a Cast" and Jamie Foxx for "Best Male Actor in a Leading Role." The film also received Critics Choice Awards for "Best Actor" and "Best Soundtrack" from the Broadcast Film Critics Association, and was cited as "One of the Ten Best Films of the Year" by the National Board of Review and over 50 publications.

Jamie Foxx received a "Best Actor" nod by the National Board of Review, the Boston Society of Film Critics, the National Society of Film Critics and the Washington D.C. Film Critics among others. Director Taylor Hackford has been nominated for the Directors Guild of America's "DGA Award for Outstanding Directorial Achievement in Feature Film for 2004." The DVD is priced at $29.98 suggested retail price. The VHS is $23.98 SRP.

Three DVD Versions include Extended Musical Performances and a Tribute to the Late Ray Charles Among the DVD Bonus Features

The Ray DVD offers bonus features including an extended edition of the film with over 25 minutes of additional footage not shown in theaters that allows the viewer a seamless, enhanced viewing experience; two uncut musical performances from the film; deleted scenes; a segment with behind-the-scenes footage of Ray Charles and Jamie Foxx trading piano riffs; and a tribute to Ray Charles.

A DVD version with DVS® (Descriptive Video Service) of the film intended for blind and low-vision audiences will also be available on February 1, 2005. Further information is available at the American Council of the Blind website at www.acb.org and at (800) 424-8666

In addition, a two-disc Ray Limited Edition Gift Set includes a photo journal; more than 20 additional minutes of uncut musical performances from the film; a segment narrated by the producer and director about the film's 15-year journey to completion; and a look at the women who played significant roles in Ray's personal life. The gift set is priced at $44.98 SRP.

Ray stars Jamie Foxx (Collateral) as the impoverished, blind child of the segregated south who not only went on to become one of the world's most innovative, successful and cherished musical performers of all time, but also broke down artistic and racial barriers along the way. Kerry Washington, Regina King, Aunjanue Ellis and Sharon Warren provide support as the strong-willed women in his life.

The Ray DVD features behind-the-scenes bonus materials and two versions of the film:
· Theatrical and Extended Version - Ray can be viewed in its original theatrical version or in an extended version with over 25 minutes of additional footage not shown in theaters
· Extended Musical Performances - Featuring two complete uncut performances of "Hit the Road Jack" and "What Kind of Man Are You"
· Audio Commentary - with director Taylor Hackford
· Deleted Scenes - 14 scenes not shown in the theatrical version
· "Stepping Into The Part" - On-set interviews, voiceover, and exclusive behind-the-scenes footage of Ray Charles and Jamie Foxx preparing Jamie for his incredible physical, mental and musical transformation into the character of Ray Charles
· Ray Remembered - friends and fellow musicians remember Ray Charles
· Plus - Theatrical trailer and previews
The two-disc Ray Limited Edition Gift Set contains all of the above and in addition:
· More Uncut Musical Performances - Seven additional complete uncut musical performances of "Hallelujah, I Love Her So," "Leave My Woman Alone," "Night Time is the Right Time," "Unchain My Heart," "Mary Ann," "I Can't Stop Loving You," and "Hard Times"
· Filmmakers' Journey - An in-depth interview with director Taylor Hackford and his producing partner Stuart Benjamin on their 15-year journey to portray Ray Charles' musical genius and bring their vision to the screen
· 28-page Bonus Photo Journal
Ray is the unforgettable story of a man who defied convention by fusing jazz, gospel, rhythm & blues with pop to create a unique sound that changed the musical landscape of America. For more information please visit: www.raymovie.com.

CAST & FILMMAKERS
Director: Taylor Hackford
Screenwriter: James L. White
Producers: Howard Baldwin, Karen Baldwin, Taylor Hackford, Stuart Benjamin.
Executive Producers: William J. Immerman, Jaime Rucker King
Director of Photography: Pawel Edelman
Production Designer: Stephen Altman
Editor: Paul Hirsch
Costume Designer: Sharen Davis
Composer: Craig Armstrong
Cast: Jamie Foxx, Kerry Washington, Regina King, Clifton Powell, Aunjanue Ellis, Harry Lennix, Larenz Tate, Terrence Dashon Howard, Bokeem Woodbine