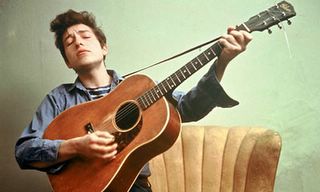 These Times They Are a Changin': Early, classic Bob Dylan. On DVD.

Bob Dylan World Tours 1966-1974: Through the Camera of Barry Feinstein ($14.95) will be available on DVD on March 8, 2005 through Music Video Distributors. Dylan and The Band's legendary 1966 and 1974 World Tours. In this documentary feature film, Feinstein and director Joel Gilbert chronicle these epic Bob Dylan tours, featuring over 150 selections of Feinstein's finest portraits - most revealed for the first time - in this extraordinary document of Bob Dylan and rock music history.

For the years in between, Gilbert visits Woodstock and Greenwich Village, New York, where he investigates Dylan's secluded life before his return to the road in 1974. Gilbert recreates the singer-songwriter's 1966 motorcycle accident, pays a visit to Big Pink, examines Dylan's first encounter with The Beatles, and even confronts fanatic Dylanologist A.J. Weberman. Interviews with filmmaker D.A. Pennebaker, rock journalism godfather Al Aronowitz, Band drummer Mickey Jones and surprise guests help reveal Bob Dylan's hidden history behind Feinstein's astonishing images.

PHOTO GALLERIES: Over 150 Exclusive and Unreleased Bob Dylan 1963, 1966, 1971, and 1974 Tour Photos by rock photographer Barry Feinstein.

BONUS INTERVIEWS: with Izzy Young and Bruce Langhorne and others who never spoke about Dylan.

SOUNDTRACK: Background music performed by Highway 61 Revisited, the world's only Bob Dylan tribute band.

TRAILER LINK: http://www.bobdylan66-74.com
--
Lauding Lauderdale:
Jim Lauderdale
's music is a mix of country music, rockabilly, bluegrass, folk, pop and soul, but based on the country music he had grown up with -
George Jones, Merle Haggard
and
Johnny Cash
. He once described what inspires his work in an interview with Artist Direct: "Country music is timeless, and it transcends musical boundaries in a way. Its memorable moments. Its emotions, realizations ... the things that tie everybody together. But country has a definite sound: lonesome, life-affirming, strong, on the brink, tragic, beautiful and hopeful - often all at once."
Jim Lauderdale: In Concert Ohne Filter
is available on DVD.
Tracklist from Ohne Filter Studios in Baden-Baden Germany on May 16th, 1998:

This is the Big Time
I'm On Your Side
Life By Numbers
And That's A Lot
Why Do I Love You
Divide And Conquer
Take Me Down A Path
My Heart Won't Know
She Used To Say That To Me
Hole In My Head
Three Way Conversation
Grace's Song
The King of Broken Hearts
Sometimes
Half Way Down
Mojo Workin'