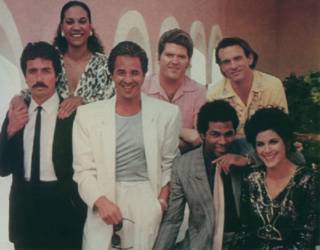 Miami Vice Season One Arrives on DVD February 8, 2005 From Universal Studios Home Entertainment The DVD Features the Music of Phil Collins, U2, Rolling Stones, Elvis Presley and More

Miami Vice comes to DVD on February 8, 2005. Starring Don Johnson, Philip Michael Thomas and Emmy®-winner Edward James Olmos, the three-disc Miami Vice: Season One DVD includes 22 episodes - all with original music remixed in 5.1 surround sound - plus bonus materials. Executive produced by the dream-team of triple-Oscar® nominee Michael Mann (The Insider, Collateral) and Emmy® Award-winning producer Dick Wolf (Law & Order), the show remains one of the best-loved series of all time. The DVD is priced to own at $59.98.

The first season of Miami Vice features guest performances by Bruce Willis, Ving Rhames, Jimmy Smits, Ed O'Neill, John Turturro, Pam Grier, Dennis Farina and Eagles' singer Glenn Frey.


BONUS FEATURES
The Vibe of Vice
Building the Perfect Vice-From development to primetime: Behind the scenes of Miami Vice The Style of Vice- Miami Vice's trend setting fashions gave the series its signature look and influenced pop culture
The Music of Vice
Miami After Vice-From the 1980's to the present, how the city of Miami has evolved

Synopsis:
Set against the
Miami
underworld, Vice cops Sonny Crockett (Golden Globe®-winner Don Johnson) and Rico Tubbs (Philip Michael Thomas) battle criminals, drug dealers and lowlifes. Set to Jan Hammer's core and featuring a soundtrack including Glenn Frey, Phil Collins, U2 and Peter Gabriel, every episode crackles with excitement and stylish flair. Also starring Emmy® and Golden Globe®-winner Edward James Olmos and guest stars including Ving Rhames, Jimmy Smits and Bruce Willis. See why
Time
magazine called Miami Vice "TV's hottest and hippest cop show."
TECHNICAL INFORMATION
DVD
Street Date: February 8, 2005
Rating: Not Rated
Suggested Retail Price: $59.98
DVD Selection Number: 227169
Running Time: Disc 1: 5 hours 42 Minutes; Disc 2: 6 Hours 30 Minutes; Disc 3: 6 Hours 13 Minutes
Discs: 3
Number of Layers: Dual (Double Sided)
Aspect Ratio: Full Frame 1.33:1