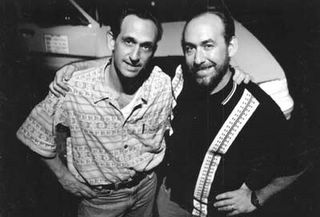 Taxicab Confessors:
Joe (left) and Harry Gantz, the producer-brothers behind the popular HBO series.
"
Taxicab Confessions
" returns to the streets of
New York City
for the first time after an eight-year hiatus.
Taxicab Confessions:
New York, New York
records more intimate nocturnal conversations with actual taxicab passengers- chronicling a disparate group of revelers, fetishists, romantics and lonely hearts as they spill their innermost secrets to anonymous cab drivers.
Starts
Saturday, February 5, 2005
at on HBO.
Producers
Joe and Harry Gantz
spent several months on the streets of
New York
following their ingeniously equipped cab for
Taxicab Confessions:
New York, New York
.
None of the passengers were aware that their conversations were being captured with hidden lipstick cameras and microphones until after the ride was over.
As a result, their conversations are -- as always -- genuine, relaxed and totally candid.
After filming the first three "Taxicab Confessions" in
New York City
(January 1995, December 1995 and August 1996), producers Joe and Harry Gantz moved to
Las Vegas
for six more specials (October 1997, July 1998, November 1999, July 2000, March 2001, March 2002 and Jan. 2003). With the renewed blessing of Mayor Bloomberg's Office of Film, Theatre & Broadcasting, the producers returned to NYC in 2004, enlisting a veteran group of cabbies to share driving duties – and elicit candid conversation - in a specially rigged yellow cab.