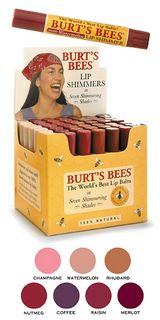 Burt's Bees Lip Shimmer
On the rare occasion on the weekends, BeansTalk mentions our personal favorite products. Here's one we can't do without
Burt's Bees Lip Shimmer
They're fantastic, with the properties of their popular, invaluable lip balm with great color. We're waiting for a red, but in the meantime, we're happy with Raisin and Merlot.
a kiss of color and pearlized shine to the World's Best Lip Balm and created a deliciously kissable collection of seven shimmering shades to soothe, smooth and highlight your lips. .0975 oz.



Champagne

- A pearlized, shimmering silver.


Coffee

- A rich, roasted brown.


Merlot

- A luscious, deep burgundy.


Nutmeg

- A sparkling, golden bronze.


Raisin

- A luxurious, earthy red.


Rhubarb

- a warm, golden pink.


Watermelon

- A juicy, silver pink.
Ingredients:
Sunflower oil, castor oil, beeswax, candelilla wax, lanolin, cocoa butter, tocopheryl acetate & tocopherol (vitamin E), peppermint oil, carnauba wax, comfrey root extract, rosemary extract. May contain: iron oxide, mica, carmine or titanium dioxide.
100% Natural


Their website, www.burtsbees.com even has a factory outlet portion -- and three of these colors are on sale for only $1.75!!!! Moisturizing, great scent and color. You can't ask for more in a lip treatment!