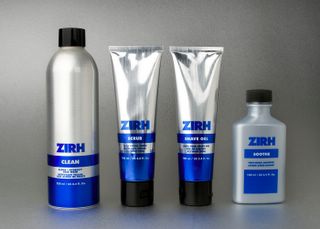 Zirh

Zirh for Father's Day
ZIRH offers gifts sets for Father's Day, including this one.
Clean
Nettoyant visage aux acides de fruits
Clean face wash sends pollution, dirt and oil down the drain. Battles bacteria and irritation. Made with alpha hydroxys, Clean restores your skin's natural pH.
Scrub
Exfoliant visage
Exfoliator wipes out pore-clogging dirt and oil. Rids your face of dulling, dead surface cells. Stimulates circulation, yet calms things down with aloe and sage.
Shave Gel
Gèl à Raser
A translucent aloe vera gel -- uses a unique combination of natural ingredients to soothe and calm your skin. See-through to help avoid nicks.
Soothe
Après-Rasage
Razor burn, redness and other irritations are put on ice when you apply this one-of-a-kind post shave healing solution. A very low alcohol formula.
Zirh (pronounced zûr) is a manufacturer of men's skincare and shaving products:

High-grade botanicals
Multi-purpose products
Fast and easy
Natural oils and extracts
Recyclable packaging
Long lasting
Scientifically tested, but never on animals
Satisfaction Guarantee
http://www.zirh.com