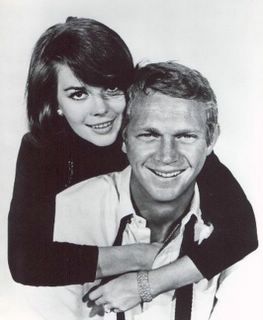 Love With The Proper Stranger publicity shot


This film, our favorite of McQueen's (and a general all-time favorite film), was virtually ignored in the documentary, and used as a touchpoint for the still photographer
William Claxton
who became a friend to the often difficult McQueen (they met on the set of this film and probably took the above photo -- he recently wrote/photographed the book Steve McQueen). They also skip over "
Junior Bonner
," but concentrate on the westerns (a genre which he was so identified with)
"The Magnificent Seven," "Tom Horn," and "Nevada Smith."


The TMC documentary is one of affection and while it doesn't wholly gloss over his violent temper, substance abuse and raging ego, it certainly doesn't dwell on it. This isn't the "E True Hollywood Story," or even an A&E "Biography."
---
McQueen, the quintessential guy's guy, owned about 210 motorcyles, over 55 cars, five airplanes, and over ten thousand miscellaneous items. Most everything was auctioned off by his family in 1984.
He was married three times and two of his three wives (Neile and his last wife, model
Barbara Minty McQueen
) were interviewed.
Ali McGraw
, with whom McQueen embarked on an affair during the filming of "
The Getaway
," was conspicuously absent.
An extensive Steve McQueen fansite (http://stvmcqueen.tripod.com) notes that among wristwatch enthusiasts, Steve McQueen made two particular models very famous:
the Heuer Monaco and the Rolex Explorer II.


That same website notes something that is appropriate to this newsletter. In

Bullit

, McQueen wore
Tod's Driving Shoe
. Introduced on shoes made for Fiat magnate Gianni Agnelli. Diego Della Valle's signature pedal grippers altered the footprints of die-hard drivers and became a symbol of casual chic" Color: brown. Materials: suede leather. Model Sole: Driver. 100% premium Leather. Made in
Italy
by
J.P. Tod
's. They style's still available and retails for $450.