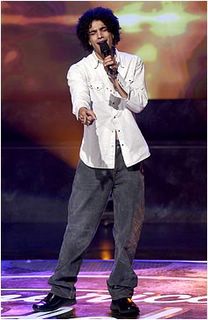 Fallen Idol: Corey Clark



Idol-atry?

American Idol second-season contestant Corey Clark was kicked out because he didn't disclose criminal charges. He is currently alleging he had a sexual relationship with Paula Abdul while still part of the program. Clark is reportedly shopping a tell-all book that's led to tabloid and TV reports about the scandal. Last night, he appeared on an ABC special.
BeansTalk received the following this morning:
Statement From The Producers Of "American Idol," Fremantlemedia, 19 Entertainment And Fox Broadcasting
"We have concerns about the motives behind last night's purported news special, as much of it was filled with rumor, speculation and assertions from a disqualified contestant who admitted during the special to telling lies. Regardless, we are absolutely committed to the fairness of this competition. We take any accusations of this nature very seriously, no matter their source, and we have already begun looking into them.
Despite documented procedures and multiple opportunities, as well as contractual requirements for contestants to raise any concerns, we were never notified or contacted by Mr. Clark or any other individual, nor presented any evidence concerning these claims.
Upon recently hearing rumors of Mr. Clark's claims, we contacted him and requested that he detail his accusations to us. That has yet to happen.
It should also be noted that the ultimate decision on which contestants move forward on "American Idol" has always been determined by the voting public. We have gone to great lengths and great expense to create a voting system that is fair and reliable. Judges may offer opinions, but viewers vote using their own subjective criteria; and it is the voters who ultimately determine each season's American Idol."