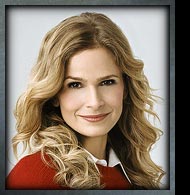 Kyra Sedgwick: The Closer
TNT's new original series The Closer, starring two-time Golden Globe nominee Kyra Sedgwick (The Woodsman, Something To Talk About, TNT's Door to Door) as an Atlanta detective transferred to Los Angeles to head the Priority Murder Squad, will premiere Monday, June 13, 2005 at 9 p.m. (ET/PT), in a special commercial-free presentation. Gil Garcetti, Los Angeles district attorney from 1992 to 2000, is a consulting producer on the series.
The Closer co-stars Corey Reynolds (The Terminal, Tony nominee for Hairspray) as Sgt. David Gabriel, Johnson's right-hand man; Robert Gossett (Arlington Road, The Net) as Captain Taylor, head of the robbery homicide division; G.W. Bailey (M*A*S*H, St. Elsewhere) as Detective Lt. Provenza; Jon Tenney (You Can Count on Me, Get Real) as FBI Agent Fritz Howard, a close friend of Johnson's now living in Los Angeles.; Tony Denison (Melrose Place, The Amy Fisher Story) as Detective Andy Flynn; Raymond Cruz (Collateral Damage, Training Day) as Detective Julio Sanchez; Michael Paul Chan (Robbery Homicide Division, The Insider) as Detective Mike Tao; and Gina Ravera (The Temptations, Soul Food) as Detective Irene Daniels.