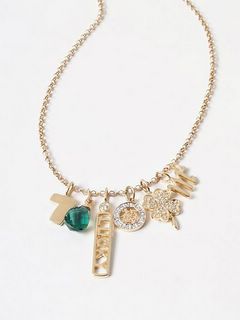 C
heck out this necklace from M2 Designs
Aniston, Thurman, Hayek:
Must-Have Jewerly
M2 Designs the funky, "entry-level luxury" jewelry by celebrity jewelry designer Mary Margrill has become a Hollywood favorite with celebrities from Nicole Richie and Lindsay Lohan to Jennifer Aniston and Ashlee Simpson to Uma Thurman to Salma Hayek.

This week, Heather Graham was photographed wearing the designer's "Faith" piece, Courteney Cox and Jennifer Aniston received a "Best Friends" piece that they adore, Ashlee Simpson was photographed wearing the "Love" plate necklace of pave diamonds, and Salma Hayek nabbed a one-of-a-kind Herkimer necklace from celebrity stylist Rachel Zoe.

The line is available at such leading retailers at Neiman Marcus, Jennifer Kaufman, Ylang-Ylang, Fred Segal, Ron Herman and more. Prices start at about $300 on up to more than $6000.