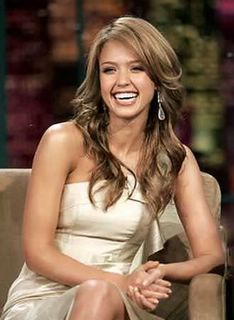 Jessica Alba
Photo by Mario Anzuoni/Reuters
Jessica Alba: Bejeweled Fashionista
Actress Jessica Alba is seen in the above photo on 'The Tonight Show with Jay Leno' in Burbank on July 7, 2005. Alba stars in the upcoming 20th Century Fox release Fantastic Four, which overcame some of the worst reviews of the year to top the North American box office with better-than-expected weekend ticket sales of $56 million, its distributor 20th Century Fox said on Sunday. The News Corp. -owned studio had hoped for an opening in the mid- to high-$30 million range.
Alba chose a champagne shantung dress from Roland Mouret's Spring/Summer 2005 collection. She also wore earrings from the H. Stern Cobblestone Collection and a ring from Diane von Furstenberg by H. Stern.
From the Designers…
About Roland Mouret: Roland Mouret debuted his Autumn/Winter 2005 collection during New York Fashion Week. Inspired by cinema, "Dangerous Liaisons" and "Hotel de Nord" played a part in this season's collection, with the constricted form, power and sensuality of the 40's France. The collection creates an illusion of the body using building blocks of articulated pieces – moulding the form, embracing curves and lengthening limbs. Distorted proportion is key with waist restrainers, cropped jackets and elongation of the lower body. It's a combination of masculine vs. feminine; lean vs. volume.
Over the last four years, Roland Mouret has firmly established himself as a leading light in international design. With awards including British Designer of the Year at the Elle Style Awards, and the prestigious Vidal Sassoon Cutting Edge Award, a record three nominations at the Lycra British Fashion Awards including designer of the year and most recently was nominated for the British Fashion Awards, his work is recognized and praised both within and outside the industry for its originality and his unique vision of women's sensuality.
About H. Stern: One of the world's pre-eminent fine jewelry houses, H.Stern has remained at the forefront of fashion for over 50 years by continuously renewing itself and always seeking new sources of inspiration in the worlds of art, architecture, pop culture and couture. H.Stern's international scope - 160 stores in 12 countries - and involvement in every detail of the production of its jewels and watches is unmatched in the jewelry industry, as is the company's endless search for the most exquisite gemstones and innovative manufacturing techniques. As technology has grown more sophisticated, so has H.Stern's commitment to high style.
H.Stern is present at the most sought-after places in the world: on the wrists, necks and fingers of Hollywood celebrities. Natalie Portman, Angelina Jolie, Jennifer Lopez, Salma Hayek, Drew Barrymore and Beyoncé are all style icons that have graced magazine covers and have made red carpet appearances in H.Stern's designs. Whether creating new styles, anticipating trends or smoothly introducing the classics of the future, H.Stern is always there, always unique.