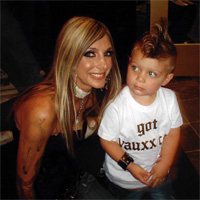 Vauxx and her son, Mini V
Art With Attitude
Step out of the boxx with Vauxx.

This Friday, July 22, 2005, artist Vauxx will present a show at the Beverly Hills art gallery listed below. The show will be filmed by the Discovery Health Channel. Vauxx, a single mother, was engaged to Dennis Rodman for six years. She'll appear on Playboy Radio Thursday, July 21, 2005 from to
Here's her bio from her website, www.vauxx.com:
"Vauxx..Painter of dreams; a woman whose art and attitude have taken the world by storm. Her incredible works were originally dismissed by the art industry for using custom frames designed to fit her specific style of art. However, her aggressive attitude, painted visions, and fantastic stories soon began tugging on the industry's heartstrings, and have now broken all barriers in artistic trends. But don't let this rock 'n' roll vixen's appearance fool you, there's a soft chewy center to this hard edged woman.
An artist from a very young age, it's easy to believe her when she says, "I was finger-painting the walls of my mother's womb!" As soon as she could pick up a crayon, she began creating mini drawings on sketch paper. While the other kids on her block were selling lemonade, Vauxx was retailing her "minis" from a card table at the end of her driveway. She's been acquiring a steady stream of collectors ever since.
A middle child, a dreamer, and a hopeless romantic, Vauxx grew up in the Midwest's Bible Belt where images of romance and sensuality were forbidden. All throughout her schooling career, teachers and counselors alike tried to suppress her self-expression and discourage her dreams of being an artist. Constantly riddled by spirit-breaking words such as "You Can't!" and "You'll never be.," Vauxx became driven to prove them all wrong. She stacked her classes and graduated early so she could leave home at 17 for a more inspiring future.
For the next 3 years her passion for art never waned, but took a backseat to the odd jobs that guaranteed her survival. Then at 20, her dreams of becoming a professional artist were again postponed when her volatile world was shaken by a chance meeting with a notorious NBA bad boy. Living in his shadow left no light for her to grow, as his whirlwind lifestyle demanded attention away from her art. After a very public breakup, Vauxx attempted to remove herself from the spotlight, only to be scooped up by Hollywood. The next several years yielded a career as an actress, model, Video Vamp, and eventually a recording artist. The music industry expedited a solo album deal, but after recording one song, Vauxx quickly realized she was in the wrong kind of studio. Two days later, she quit.
Going back to the brush, she set out to paint the next chapter of her life. The following years were spent developing a sensual and erotic style of painting portrayed in her "Spiritual Suite." Destiny awaited her as she walked into a gallery one day. There she met the infamous publisher of Michael Godard who immediately became smitten with her paintings and knew she was the next big thing to hit the art world. After hearing of her life's escapades, he asked her if she could paint him a vision of the place to which she was always trying to escape. And thus, the Eternal Dream series was born.
Vauxx! Who is she? An artist with an attitude. A hardcore woman with a soft side. A dreamer who paints, and paints what she dreams."

Check out her website for samples of her work.