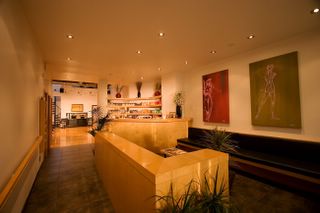 Chop Chop Salon
Chop Chop Rocks
As promised, here's a close-up look at the
Chop Chop Salon
in Hollywood, where our friend and favorite
Jeannine Broussard
is temporarily.
Who's Who at Chop Chop

Darin Birchler
"Hairdressing was the furthest thing from my mind," smiles Birchler. Originally from the East Bay, Birchler ran in a tough crowd of professional boxers and kick boxers. Yet every time he visited his girlfriend at work he was inspired by the dynamic energy and creativity in the salon. With her encouragement, Birchler applied to beauty college in Sacramento. "I didn't tell anyone," he says.
While waiting to be interviewed, he bumped into the wife of a trainer at his karate school. Sensing his embarrassment, she let him in on a secret; not only was her husband a hairdresser, his mother owned the school. "Here was this mean, 6'3', 215 lb, aggressive tough guy," he says. "To realize this black belt instructor I respected was also hairdresser completely changed my perspective."
Darin was hooked from the first snip. He found a creative release he had never experienced having come from an athletic background. After working in Sacramento for a year and a half he slid into an apprenticeship at the "rebel black sheep of salons," Architects and Heroes, in San Francisco, where he remained for eight years. "The artists had more freedom there, it was a looser structure," says Birchler. "And they were turning out architecturally beautiful work."
In the mid 90s, Birchler loaded up a U-Haul and struck out for Los Angeles with nothing more than a dream and a wad of cash burning his pocket. He landed a job at a Beverly Hills salon and in less than a year, Los Angeles magazine named Birchler "L.A.'s Hot New Up-and-Comer." After 10 months, Birchler left the "restrictive salon environment" in pursuit of freelance work on photo shoots, commercials and music videos. "I wasn't feeling the unity I was used to in San Francisco," says Birchler. "The kids in San Francisco were artists, they loved what they did and they fed off each other's talent."
He teamed with friend and colorist, Amanda [last name] in an artist's loft with panoramic views from the 11th floor of the old Asahi building. Word-of-mouth swept the city and soon Birchler's reputation for architecturally genius cuts earned him a fierce following running the gamut from actors and musicians to college students and housewives. Within five years he had outgrown the space and began searching for a new location to expand his vision.
It was important to Birchler to hire the right staff in order to create a unique family environment where the artists could thrive and the clients would feel welcome. He encourages his staff to get to know everyone's clients, not just their own. "No one's going to walk in and feel judged by the staff. Some salons buy into that, they want the cattiness," he says. "That's not going to happen here. That's why 18 years later I still love what I do."
Victor Camarillo
Chop Chop's manager, Victor Camarillo, has a democratic approach to overseeing operations. He believes clear communication is the basis for a happy workplace and encourages the staff to contribute ideas that will enrich the atmosphere for everyone. "We're a family," says Camarillo. "And it's our job to make people feel comfortable when they're here, and look great when they leave."
Though Camarillo always knew he wanted to work with hair, his parents held a more corporate vision for him. "It wasn't going to happen," he laughs. After forays into fashion and interior design, he went to live in London where he landed a job as an assistant in a salon. The rest was history. He returned to Los Angeles and began formal training at the Sassoon Academy in Santa Monica. Over the last 15 years, Camarillo has built a loyal following from Beverly Hills, to Pasadena and Hollywood. "Working in different salons has given me a lot of insight into what works and what doesn't," he says. In 2001 longtime friend, Darin Birchler, approached Camarillo about his concept for a new hair salon. Camarillo jumped on board as Birchler's right hand man and in the winter of 2002, they opened the doors to Chop Chop.
As the only stylist adept at both color and cuts, Camarillo seeks inspiration from a mix of street culture and couture. "I love to blend classic cuts with an edgy twist," he says. "I always give my clients something that expresses their individuality so they walk away feeling fresh."
Joann Rodriguez
"Way before I ever became a stylist, my friends always trusted me to do their hair," says Rodriguez. When she joined the Vidal Sassoon Academy in 1993, her teacher, Patty Song, inspired her to get into color. "She could do anything--she was a scientist when it came to color."
Upon graduation, Rodriguez was sent to London to complete her training. When she returned to the States she got a job working in Beverly Hills where she first met Darin Birchler. Six years later their paths crossed again when Rodriguez learned through Victor Camarillo that Birchler was looking to open his own space. "I was so inspired by Darin's vision," she says. "Finally here was an opportunity to work around highly creative people and really challenge myself." She immediately signed on and joined the search for the right location.
Rodriguez looks to music, art, and magazines for fresh ideas. "I'll take a look from fashion, keep what works, toss what doesn't, and make it my own," she says. She prides herself on being an excellent listener with an intuitive sense of her client's needs. "I'm all about making the client happy, whether they want funky or classic, they're going to leave my chair happy."
Danny Martinez
"I've been doing hair since I was in the 2nd grade," laughs Martinez. "I was the kid who was French braiding everyone's hair." At 17 Martinez found himself waiting in Sassoon while a friend got a cut. Fueled by the energy of the salon he thought, "I'm going to work here one day." After a lackluster semester of fashion merchandising, destiny caught up with Martinez and he began training at the Vidal Sassoon Academy. In 1999 he assisted at the Beverly Hills salon before returning to the Sassoon Academy where he became a full-time instructor.
In 2002, Martinez traded the glitz of Beverly Hills for the East side, street-chic of Chop Chop where he enjoys the more open-minded clientele. "I don't ever want to become that cookie-cutter hairdresser who has one signature look and everyone walks out looking the same," says Danny. He likes to emphasize each client's uniqueness and takes into consideration their personality, lifestyle, and bone structure. "Everyone's different," he says. "I want them to look that way."
A strong proponent of education, Martinez travels internationally to bring a world view to his work. "It's all about checking out what's going on in the street," he says. Martinez also follows what's happening on the runways and brings fresh elements into his work each season. As much as he loves keeping his clients current, he's not obsessed with cutting everyone's hair off. "It's not about how much hair comes off," he insists. "It's about taking off the right hair." Most importantly, Martinez wants his clients to leave looking stylish and feeling beautiful. "Even if it's short hair, no one ever leaves feeling like man. I like to bring out a woman's femininity."
Chris Megia
Chris Megia isn't interested in the latest trend. "It's all about suitability," she says. "If the trend doesn't work on you, it doesn't work. And if you can't do it at home, then what's the point?" Megia worked as a stylist in Northern California for seven years, and owned her own salon for two years before journeying south to the teacher's training program at Vidal Sassoon in Santa Monica. After graduating in 1998, she taught all over the United States and in London. "It was an amazing experience," she says. "I had the opportunity to be more creative than I had ever been."
As an instructor, she would take her students to Chop Chop on salon tours. The lively and harmonious atmosphere was a welcome reprieve from the usual pretension. "You walk into other salons and it's intimidating," says Megia. "You know everyone's checking out what shoes you're wearing, what bag you're carrying." Megia was so impressed with the salon's kick-back attitude and quality work she was inspired to get back on the cutting floor.
Megia gives each client the royal treatment from the moment they walk in the door to the moment they leave. "When my client is here, it's all about them," she says. "It's an hour of their lives, and I want to make that hour the most enjoyable hour I can."
Roberta Gallardo
Nine years ago Roberta Gallardo was sitting behind a desk stacked with escrow papers, looking at a bleak view of the future. "I wanted to do something fun and creative, something that would keep me challenged," says Gallardo. Inspired by a friend who was a hairdresser, she signed up at the Vidal Sassoon Academy and immediately fell in love with the world. Following her initial courses, she completed the teacher's training program in seven months, setting an all-time record as the first American to sail through the program in half the expected time. In 1999 Sassoon transferred Gallardo to Germany and London where she gained invaluable experience and international exposure.
When she returned to Los Angeles she worked as an instructor at the Academy where she was given the opportunity to teach throughout the country, as well as in London and Japan. By 2003, Gallardo was ready for a change and Chop Chop fit the bill. "I wanted to be somewhere that was laid-back and easygoing because that's how I am," she smiles. "Clients are comfortable with me because I take the time to know who they are. They trust I'm not going to push them in a direction that doesn't vibe with them."
Known for her mastery with bleach tones, Gallardo has a strong blonde following. She's also the go-to girl when a client needs corrective color. "I've seen it all! Nothing scares me."
Helen Kim
Helen Kim understands her client's busy schedules and has perfected the art of the low-maintenance cut. She works with the hair's natural texture to bring out her client's best attributes. "Most of my clients can't spend a lot of time blowing their hair out," she says. "I'm the same way, so I love creating soft, feminine cuts that look don't require a lot of upkeep."
Kim graduated from Vidal Sassoon Academy in 1995 and began working in Beverly Hills where she built up a solid reputation and a strong following. Eight years later she left the Beverly Hills in favor of the more down-to-earth atmosphere of Chop Chop. "The energy here is great," says Kim. "Even my clients are happier here."
She gleans Inspiration from the runways and magazines. "Even from going out," she says. "Sometimes I'll see a cut on someone and think that would be perfect for one of my clients." She'll often encourage her clients to try something new but says, "I won't suggest a change just to be funky. It's gotta be glamorous."
Kate Callahan
Callahan discovered her calling while working as a salon receptionist in a small town in Wyoming. "I always knew I could never work in an office," says Callahan. "The vibe in the salon was so happy; no two days were ever the same."
In 1995 she decided to try her hand in hair and came out to Los Angeles to study at the Sassoon Academy. Following graduation she worked in salons in Beverly Hills before joining the team at Chop Chop where she was excited to see people actually loving what they do. "Too many salons have a corporate feeling," says Callahan. "This is such a great environment."
<>Callahan develops close relationships with her clients who range in age from 7 years to a 90 year old L.A. native who is former a hairdresser herself.
Callahan sometimes changes up her own hairstyle to give her clients the courage to try something new. "People open up and trust me, she says. "I love it when I see my client walk out the door with a little skip in their step because they know they look good."


Chop Chop Salon

830 N. La Brea in Hollywood, Calif.
(323) 464- 8100
>