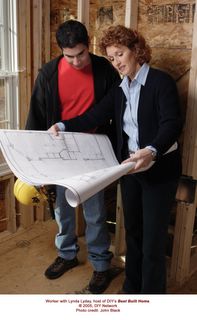 Lynda Lyday, host
DIY Network Awards Small -Town
Resident Best Built Home


Recipient of Best Built Home Giveaway Sees Win as Change of Fortune
First Annual Sweepstakes Generates Nearly 4.5 Million Entries

Knoxville, Tenn. – July 18, 2005 – Small town Missouri resident Billie Bentley is the lucky winner of DIY Network's first annual Best Built Home Giveaway. Bentley, 59, currently lives in a manufactured home with her husband of 40 years in Keytesville, Mo., population 519. Bentley calls the win a blessing and sees it as a change of fortune. Recently laid off from her job, she and her husband, a cancer survivor, are still in disbelief.

"I was born and raised in a home in Kansas City and the thought of owning a new home and living in one again is unbelievable. I can hardly wait to have window sills where I can put flower boxes, more storage space, and live in a place where I feel safer during storms," says Bentley.

The DIY sweepstakes garnered nearly 4.5 million entries in 43 days, the most successful promotion ever run by the network. Most of those entries were received via DIYnetwork.com, the network's companion website. An avid DIY viewer and DIYnetwork.com website user, Bentley entered the sweepstakes online nearly every day.

As the grand prize winner, Billie will work with DIY to build a new home in her community using the best building practices to make it practical, energy efficient, comfortable, safe, healthy and durable. Billie looks forward to working with the builder and DIY to plan the home she's also wanted. Also as part of the grand prize, she will win a new, well equipped Ford F-Series Super Duty.

"DIY couldn't have handpicked a more fitting winner for our first home giveaway," says Bob Baskerville, president of DIY. "Billie lives in small town, middle America – and she's someone who can really use a new home and will appreciate the best built features that will go into it. DIY will bring Billie's story to life and document the building of her home for a one-hour special to debut on our network next year."

Throughout the run of the sweepstakes, DIY aired a new, five-part workshop, Best Built Home, which showcased real homeowners describing the attributes that matter most to them when building a new house. The workshop can now be seen regularly on the network, in addition to other home building and home improvement programs that air during branded "Best Built Home" key time periods in the programming schedule. These are Sunday afternoon from , weeknights at , and Saturdays from .

Sweepstakes sponsors include Ford Motor Company, The Home Depot, Propane Education Research Council, Bellawood Floors, Inc., Century 21 Real Estate, G. P. Brawny, Georgia Pacific Building Products, Wachovia, Protecto Wrap Company, Delta Faucet Company, Quick-Step and American Honda Power.

For more information about the sweepstakes, Bentley, and DIY and its programs, visit DIYnetwork.com.

About DIY Network

DIY Network is your television source for the best know-how and how-to when it comes to any type of do-it-yourself project. DIY presents 90 percent original programming across a broad range of categories including home building; home improvement; automotive and boating; crafts; gardening; hobbies; living; and woodworking. Informational and entertaining, DIY's programs and experts answer your most sought-after questions, plus offer creative projects that will inspire you to do something out of the ordinary – yourself. DIY's website, DIYnetwork.com, features step-by-step instructions for all that you see on-air, totaling more than 15,000 projects online. These companion resources instruct millions of people everyday, which is why DIY is one of the fastest growing digital networks – now in more than 34 million homes – and DIYnetwork.com averages 2 million unique visitors per month.