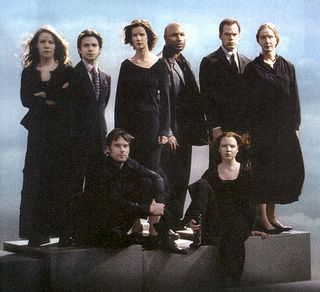 Six Feet Under
Six Feet Under: Episode Guide
Through Series Finale August 21
Episode #61: "All Alone"
Debut date: SUNDAY, AUG. 7 (/PT)
Other HBO playdates: Aug. 8 (), 10 () and 12 ()
HBO2 playdates: Aug. 9 () and 13 ()
While David (Michael C. Hall) attends to family business, Keith (Matthew St. Patrick) makes an embarrassing self-discovery on the job; Brenda (Rachel Griffiths) is challenged by Nate (Peter Krause) and answers a hard question for Maya (Brenna Leigh Tosh/Brownwyn Anne Tosh); Maggie (Tina Holmes) gets a door shut in her face; Margaret (Joanna Cassidy) compares herself to her daughter; Ruth (Frances Conroy) lets Bettina (Kathy Bates) play nurse; Rico (Freddy Rodriguez) and Vanessa (Justina Machado) decide to protect their future; Claire (Lauren Ambrose) is comforted by Ted's (Chris Messina) squareness; and George (James Cromwell) makes a speech about love. Written by Kate Robin; directed by Adam Davidson.



Episode #62: "Static"
Debut date: SUNDAY, AUG. 14 ()
Other HBO playdates: Aug. 15 (), 17 () and 19 ()
HBO2 playdates: Aug. 16 () and 20 ()
As David's fears take over, Keith tries to protect him and the boys; Billy (Jeremy Sisto) attends to his sister; Claire goes on a drunken harassment spree and pushes Ted away; Rico pushes for a talk about the business; George tries to help Ruth with Maya; Nate urges Brenda to embrace a taboo; and Vanessa sees the future in a funeral home. Written by Craig Wright; directed by Michael Cuesta.

Episode #63: "Everyone's Waiting"
Debut date: SUNDAY, AUG. 21 ()
Other HBO playdates: Aug. 22 (), 24 () and 26 ()
HBO2 playdates: Aug. 23 () and 27 ()
In the series finale, David finally embraces a demon; Keith gives "tough love"; Nathaniel (Richard Jenkins) talks to his younger son; Brenda delivers early and fights Nate's negativity; Claire gets an exciting phone call; Ted inspires some sexy photos; Margaret is impressed to see Olivier's (Peter MacDissi) nurturing side; Rico and Vanessa celebrate an investment; Ruth finds consolation in the truth from Maggie; George's limitations eclipse his intentions; and Claire drives into her future. Written and directed by Alan Ball.

The executive producers of
Six Feet Under
are Alan Ball, Robert Greenblatt, David Janollari, Alan Poul, Bruce Eric Kaplan and Rick Cleveland; co-executive producers, Scott Buck and Jill Soloway; supervising producer, Kate Robin; producers, Lori Jo Nemhauser, Bob Del Valle and Craig Wright; co-producer, Nancy Oliver.