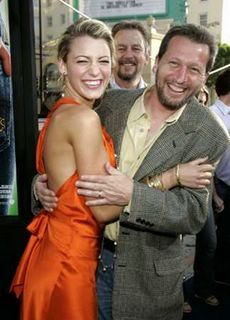 Blake Lively, director Ken Kwapis (who BeansTalk attended university with, btw...that's for you trivia buffs).
REUTERS/Mario Anzuoni
Actress Blake Lively laughs with director Ken Kwapis during the premiere of 'The Sisterhood of the Traveling Pants' at the Grauman's Chinese Theatre in Hollywood May 31, 2005. The film is based on Ann Brashares' novel which portrays the story of four lifelong girlfriends who face separation for the first time. Lively wears a dress from the Fall Moschino Couture.