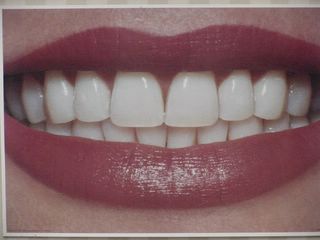 Good teeth
BeansTalk Note: We've Been Saying This All Along!
Straws may save soda lovers' teeth

Reuters
People who savor their soft drinks may save their teeth some wear and tear by using a strategically placed straw, according to a new report.
In excess, carbonated beverages, like other acidic drinks, can wear away the protective enamel on teeth, leading to tooth decay. While going easy on carbonated beverages is the best way to prevent tooth erosion, sipping them through a straw may offer some added protection.
The key, say dentists at Temple University in Philadelphia, is to place the straw near the back of the mouth so that the teeth aren't bathed in soda with every sip.
That advice is based on the cases of two teenagers, whose heavy soda drinking -- between 1 and 3 liters a day -- caused widespread tooth erosion. However, the pattern of tooth damage differed based on how they drank.
In one case, an 18-year-old man regularly downed his soft drinks from cans and cups, and his dental erosion was more extensive in the back teeth and on the right side of his mouth-where he had the habit of holding his soda for a while before swallowing it.
In contrast, a 16-year-old girl who habitually sipped her soda through a straw developed extensive erosion in her front teeth. Since she normally placed her straw just inside her lips, these are teeth that would mainly be exposed to soft drink acids.
The cases suggest that using a straw -- as long as it's placed near the back of the mouth -- may lower the odds of tooth decay by limiting the contact between soda and teeth, according to Dr. Mohamed A. Bassiouny.
He and his colleague at Temple's School of Dentistry, Dr. Jie Yang, describe the two cases in the current issue of the journal General Dentistry.
"Your best option is to sip soft drinks and other beverages through a straw positioned toward the back of the mouth," Bassiouny said in a statement.
But, he added, making a habit out of drinking soda instead of water "may cause significant, irreversible long-term problems and damage."
Besides cutting back on soda and keeping straws handy, people should avoid drinking soda before bed, according to the Academy of General Dentistry. That's true even for conscientious brushers, as brushing the teeth right after having a soft drink can damage the acid-weakened enamel.
SOURCE: General Dentistry, May/June 2005.