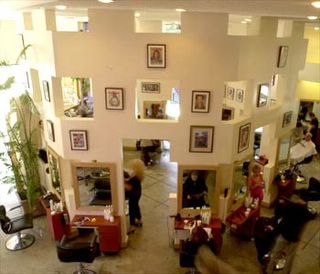 Juan Juan Beverly Hills
Second Juan Juan Salon Opens
Beverly Hills' popular Juan Juan has opened a second location in Brentwood, California, located at 11674 San Vicente Blvd.
Juan Juan – Brentwood is co-owned by colorist [and BeansTalk friend], Jennifer Jahanbigloo, her husband and celebrity stylist, Sean Jahanbigloo and Sean's sister and celebrity colorist, Elie Jahanbigloo. The 4000 sq. ft. salon, features an Anastasia Beverly Hills brow studio.
Juan Juan – Brentwood has 28 chairs for stylists and colorists, plus color and treatment mixing areas. The shampoo area features relaxing music and dimmed lighting along with a plasma screen television for customers to watch while getting shampooed. At the color processing area, an oversized dining room table is available for customers to relax at with Internet air ports and a designated soundproof facial room.
The new salon will offer all color services and an extensive treatment menu, such as L'Oreal Professionnel's Serie Expert power doses. Prices range from $35 to $300.
Architect David Kellen designed the original Juan Juan in Beverly Hills 20 years ago, and was asked by the Jahanbigloos to help design the Juan Juan – Brentwood salon. The modern décor features styling stations of dark wood and frosted glass along side ebony-wood flooring. Square cut-outs in the walls provide a feeling of privacy, but also bring a feeling of openness that the Beverly Hills salon projects as well. At the front of the salon there's a large plasma screen television.
"We wanted the salon to have a chic, modern New York City feel with a laid back L.A. vibe," says Sean Jahanbigloo. A special retail area will be at the front of the salon and will offer high-end hair accessories and wet goods, which will include Wella System Professional and L'Oreal Professionnel Serie Expert.
The Anastasia Beverly Hills brow studio will have its own space within the salon. An esthetician trained by Anastasia will provide the famous Anastasia Beverly Hills services, such as brow shaping, lash tinting, makeup and eyelash applications, facial hair removal, facials and body waxing. "I started my career at Juan Juan Beverly Hills and I thought collaboration would be wonderful in extending our partnership, it's a great place for hair and now it will also be a great place for makeup and brows," says Anastasia Soare. Juan Juan - Brentwood will offer Anastasia Beverly Hills full line of cosmetics, which will include eyebrow and color products.
"The area was in desperate need of a great salon like Juan Juan," says Jennifer Jahanbigloo. "We are thrilled to be welcomed so warmly into the community." www.juanjuansalon.com