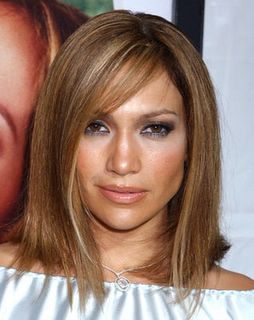 Jennifer Lopez at the Monster-In-Law premiere (photo by Greg DeGuire, Wire Image)
New Tan With Celeb Fans
Jillian Barbarie
and
Jennifer Lopez
are fans, apparently, of a new tanning system
Tan by Max Tan
: no streaks, no smell. It's all natural (they even have live plants in the room).
Mystic Tans
, are all chemicals
.
Max Tan
is currently being done by Max Tans at the
Cristophe Salon
,
Beverly Hills
.

Max Tan
is the No. 1-rated spray tan in
Los Angeles
by
Citisearch, Good Morning America
&
ABC7.COM
. Each tan can be custom tailored to the customer's desired effect.
Mike Johles
, proprietor, says
Max Tan
tans to client's
natural pigmentation. Johles says his clients say ""it makes them look ten years younger and ten pounds lighter." Johles says it's been nicknamed the "Anti Aging Tan," as it hides cellulite, varicose veins, scars and skin discolorations.
The solution is made up of DHA, a crystallized form of sugar beets, originally used by dermatologists to treat skin conditions, but they discovered it darkened skin. Johles also uses bronzing salts for a "natural glow." As a moisturizer, he stresses that it's good for the skin's complexion and recommended for those with eczema and psoriasis. $45 per session, each lasts a week on average. Their "Tan in a Can" is good for two full-body tans, and uses a similar formula to the in-salon treatment. Max Tan also offers Mobile Tanning. For info, 310-415-3463 or sunfxtanbeverlyhills.com