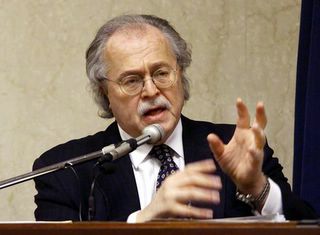 Dr. Michael Baden
Dr. Michael Baden, Former NYC Chief Medical Examiner
Dips Into HBO's "Autopsy" E-Mail Bag To Serve
As
A "Court Of Last Resort"
In 1994, HBO launched the "
Autopsy
" series, hosted by
Dr. Michael Baden
, former chief medical examiner of
New York City
. The first documentary series on forensic science, "Autopsy" was a success, paving the way for the host of other forensic shows -- documentary and drama - that followed, and igniting a cultural phenomenon that continues today.
Debuting Saturday, July 9, 2005 at 10 p.m. the America Undercover presentation Ask Dr. Baden: An Autopsy Special brings a unique new twist to the hit series, as he answers e-mails from HBO viewers who have appealed for help via the "Ask Dr. Baden" interactive feature on hbo.com. To them he is the "court of last resort."

Why Did Terrie Petrie's Children Die?


In Sept. 2004, 32-year-old Terrie Petrie wrote:
"I am the mother of four children, three of which have died. A daughter in June of 2000 at eight days old and twin sons in January of 2003 at three months and a week. I have been trying to work with police to get answers as well as several doctors to get answers -- no one knows anything. Please help me. I need to know why my children keep dying and why was I so lucky with my oldest who is now 7." Dr. Baden's search involves polygraph tests, genetic and DNA testing, and autopsy reports, as well as two interviews with Terrie Petrie. He reveals his conclusions to her, sparking a dramatic exchange.

Lady in the Lake


On Oct. 10, 1981, ten-year-old Darrell Forbis came home after school to an empty apartment at a motel in Marysville, Cal. There was no sign of his mother, Mary Jane Goodings, or stepfather, Ron Roberts, so he stayed in the apartment waiting for someone to come back. But Forbis never saw his mother again and was put into foster care. As the years passed, his sense of abandonment led to hatred for his mother.

In 2002, more than 20 years later, divers found the slime- and mud-covered hulk of a 1980 Ford Thunderbird at the bottom of a shallow lake just a block from the motel. On the rear passenger seat they discovered what appeared to be a skull and lower jawbone - later confirmed as belonging to his mother.

Forbis' niece subsequently wrote Dr. Baden, saying: "I am writing on behalf of my uncle and his family. After 21 years of being missing, his mother's body was found in her boyfriend's car, at the bottom of Lake Ellis in California. There were many questions surrounding her death. Now the new questions are how did she die, was she murdered before going into the lake, why was she not found when the car was in 6 feet of water in a recreational lake, and why did the police department close her case before she was found? Please consider taking on this case so my uncle and family can put this tragedy behind them."
Dr. Baden's search involves an autopsy of Mary Jane Goodings' remains and interviews with police and her children, Darrell and Darlean, as well as an interview with Ron Roberts -- the last person to see her alive. Roberts provides some answers for Darrell and Darlean, but also raises just as many questions.

Finally, Darrell and Darlean are able to "bring their mother home and bury her next to her own mother."

~~~~~~~~~

Baden: Pathologist Dr. Michael Baden is a real-life "Quincy" who has conducted more than 20,000 autopsies in his 34-year career, reviewed the autopsies of Nicole Brown Simpson and Ronald Goldman at the O.J. Simpson trial, and examined victims of the TWA Flight 800 crash. Currently director of forensic science for the New York State Police, Dr. Baden also consulted in the cases of Claus von Bulow, President John F. Kennedy, Dr. Martin Luther King, Jr., Malcolm X, Medgar Evers, John Belushi, Chandra Levy, Andy Warhol, Christian Brando, Montgomery Clift, the Romanovs, and the Challenger and Lockerbie disasters. As perhaps the best-known "detective of death" in the U.S., Dr. Baden shows how he and his peers are the living interpreters for the dead, demonstrating the importance of pathology and other disciplines in revealing the truth behind suspicious deaths.

As Dr. Baden wrote in his 1989 best seller "Unnatural Death: Confessions of a Medical Examiner," forensic pathology is "a profession that is enormously gratifying. It offers the adventure of detection, the excitement of discovery and the satisfaction of searching for the truth." Dr. Baden and his wife, legal commentator Linda Kenney, recently finished writing "Remain Silent," a suspense novel that mines the worlds of forensics and law, to be published by Alfred A. Knopf this September.

Ask Dr. Baden: An Autopsy Special is produced by Gaby Monet, whose other HBO documentaries include the previous "Autopsy" specials, plus "Child of Rage: A Story of Abuse," "Attempted Murder: Confrontation," "Confronting Evil," "Murder 9 to 5" and the three "Iceman" specials. Director and editor, Arthur Ginsberg; narrator, Marlene Sanders; coordinating producer, Sara Bernstein; supervising producer, Lisa Heller; executive producer, Sheila Nevins.