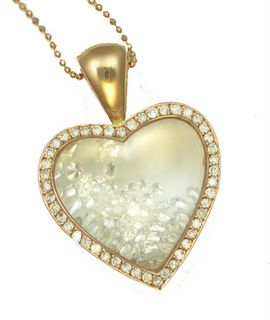 Tesoro's Diamond Heart Pendant

Tesoro: Hottest Jeweler in Hollywood
In a world where people have more money than 99.9% of the world, jewelry is a critical element in the world of Hollywood. As reported today, Marc Anthony, thrilled Jennifer Lopez has been married to him for an entire year, gave her a $1 million diamond anniversary ring. Red Carpet denizens are often sporting big bling from Neil Lane, Martin Katz, Rafinity are just some of the jewelers popular with celebrities.
But there's a new kid on the block: Tesoro
That pretty Tesoro rose gold floating diamond heart pendant necklace in the photo above was given actress/singer Hilary Duff from her boyfriend Joel Madden, lead singer of the rock band Good Charlotte.
Tesoro
fans include
Ashton Kutcher, Jessica Alba, Lindsay Lohan, Michael Jackson, Lebronn James, Missy Elliott, Biz Markie, Mekhi Pfifer
and other celebrities in music, TV, film and sports.
Tesoro
(which means "treasure" in Italian) is a collection of floating diamond pieces
(pendants and cufflinks).
BeansTalk
has the teardrop pendant in the photo below. The company is finalizing the details of a program with the
Step Up
organization (women in the entertainment industry) to partner with them to donate a portion of the proceeds from the sale of the
Tesoro
collection to Ovarian Cancer research.
In the last two weeks Tesoro pieces have been given to Hilary & Haylie Duff, Fergie from the Black Eyed Peas and Alicia Keys. At the MTV Movie Awards in LA, Ally Sheedy wore a Tesoro teardrop necklace as she received an award with Molly Ringwald and Anthony Michael Hall for "The Breakfast Club." MTV VJs Suchin, Sway and Coltrane all wore pieces from the collection along with Jason of Beverly Hill's (of Tesoro) floating-diamond watch line called Dunamis. Wilmer Valderrama of "That 70's Show" wore a $100,000 Dunamis watch to the MTV Movie Awards.

Both Haylie Duff and Fergie from BEP are currently wearing the Tesoro purse (Haylie and Fergie each have a platinum purse with diamonds). Alicia Keys has a platinum Tesoro heart pendant.