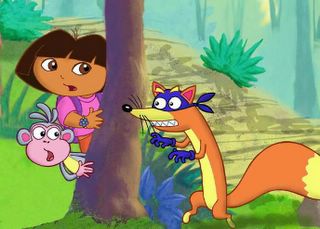 Dora the Explorer and friends
New Dora Adventures
Dora and Her Friends Journey to Fun-Filled Places Including a Royal Birthday Party,
A Sunny Day at the Beach and Into a Big Book of Nursery Rhymes in Episode Premieres
Dora the Explorer, the number-one preschool show on commercial television, will take preschoolers on a week of exciting, brand-new adventures beginning Monday, October 3, at 10:30 a.m. (all times ET/PT). The four new episodes will roll-out Monday, October 3 – Thursday, October 6, at , and will encore the next morning at The week will culminate with a Dora the Explorer marathon on Friday, October 7, from
The premiere week schedule is as follows:
Monday, October 3, at – "A Crown for King Bobo"
Dora and Boots set out to help King Juan el Bobo find his lost crown, so they can all go to his Mami's birthday party. The friends take a silly adventure that finds them singing to the snapping crocodiles, running past a fountain without getting splashed and saying 'banana pants' to wild turkeys to make them laugh. In the end, King Bobo remembers everything and makes it to Mami's party just in time.
Tuesday, October 4, at – "Dora Had a Little Lamb"
Dora and Boots jump into a big book of Nursery Rhymes to help Mary find her lost, little lamb. Along the way to Mary's house, Dora, Boots, and the Little Lamb pick pickled peppers with Peter Piper, help the Itsy Bitsy Spider climb up the water spout, ride a cow over the moon and put Humpty Dumpty back together again.
Wednesday, October 5, at – "The Mixed-Up Seasons"
Dora and Boots are having a great summer day at the beach, but suddenly they encounter a strange sight. There is a snowman at the beach! The snowman will melt if they don't hurry and take him home to winter, so Map lays out all four seasons and off they go. Rescuing other misplaced creatures like a flower in winter, a Jack-O-Lantern in spring and a crab in fall, they take a colorful adventure across the seasons to bring the snowman home.
Thursday, October 6, at – "Best Friends"
Best Friends Day is a special day for best friends to play together. Dora and Boots decide to meet for a picnic to celebrate – Boots is bringing chocolate and Dora is bringing yummy strawberries. They need help in their journey to Rainbow Rock, where they have a picnic and share strawberries dipped in chocolate.
Friday, October 7, from – Dora the Explorer Marathon
Encore presentations of "A Crown for King Bobo," "Dora Had a Little Lamb," "The Mixed-Up Seasons," "Best Friends" and several other episodes of Dora the Explorer.
Dora the Explorer, which airs at 9 a.m., 10:30 a.m. and 1 p.m. weekdays on Nick Jr. and weekends on CBS (check local listings), is a play-along, animated adventure series starring Dora, a seven-year-old Latina heroine whose adventures take place in an imaginative, tropical world filled with jungles, beaches and rainforests. Dora explores her world just as preschoolers do everyday, and the show is designed to actively engage its audience in an interactive quest using a variety of learning techniques.
In every episode, Dora and Boots invite the audience to participate in an exciting adventure, where each step of their journey consists of a problem or puzzle that Dora and the audience must think their way through in order to solve the next problem. Dora is proudly bilingual and uses her knowledge of English and Spanish to communicate with her friends, overcome obstacles and reach her goals. In each episode, Dora teaches a Spanish word or phrase to the viewers and then asks them to use it to solve a problem and forge ahead. Ultimately, Dora and her best friend, Boots, triumph, and the story always ends with a "We Did It!" anthem.
Dora the Explorer was created by Chris Gifford, Valerie Walsh and Eric Weiner. Gifford serves as executive producer, with Walsh as co-executive producer and Weiner as producer and head writer.
Nick Jr. is a specially designed programming block airing on Nickelodeon weekdays from (ET/PT) and weekends on CBS (check local listings). Completely dedicated to preschoolers ages 2-5, Nick Jr.'s Emmy, Peabody and Parents' Choice Award-winning programs are curriculum based, fun and commercial free. At Nick Jr., kids play to learn with innovative, original shows created just for them.
Nickelodeon, now in its 26th year, is the number-one entertainment brand for kids. It has built a diverse, global business by putting kids first in everything it does. The company includes television programming and production in the
United States
and around the world, plus consumer products, online, recreation, books, magazines and feature films. Nickelodeon's
U.S.
television network is seen in 89 million households and has been the number-one-rated basic cable network for ten consecutive years. Nickelodeon and all related titles, characters and logos are trademarks of Viacom International Inc.