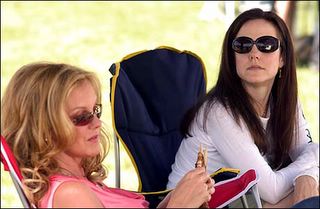 Elizabeth Perkins and Mary-Louise Parker in Showtime's "Weeds"
Watch Weeds
Many thanks to the addition of
On Demand
to our cable system, as it allowed us to catch up on Showtime's brilliant series "
Weeds
." We
weren't happy with the cable net when they cancelled one of our favorite shows "
Dead Like Me
," and left the impossibly politically correct and melodramatic earnest "
The L Word
" and "
Queer as Folk
" (the latter being certainly more bearable).
But "
Weeds
" is a very cleverly written and very finely acted show that skirts the line of drama and comedy, effectively weaving pathos, satire and completely engaging storylines. It's also funnier than hell.
It's a story of a suddenly widowed mother-of-two
Nancy
(
Mary-Louise Parker
, who really gets to demonstrate her acting chops here) who's turned to dealing -- weed, Mary Jane, smoke, or marijuana. The twist is, that while she travels to the urban area of West Adams to procure her goods, she actually sells it to her neighbors in the lily white community of Agrestic.
Anyone who lives in Southern California (or in the far suburban outreach of any city where mini-mansioned communities pop up like, well, weeds) will recognize the pristine streets, the humongous homes and the officious neighbors.
It's worth a watch, and maybe two.
Airs Monday at 10 p.m. with rebroadcasts of the same episode on Wednesday and Friday of the same week, also at 10 p.m. on Showtime
.