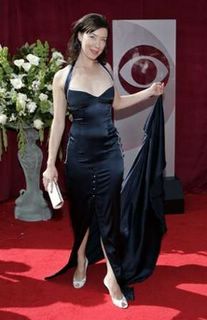 Molly Parker of "Deadwood"

REUTERS/Mario Anzuoni
Choosing Chopard
Emmy winner Patricia Arquette wore diamond jewelry from Chopard including pear-shaped and marquise diamond drop earrings (30.13 cts.) with a diamond pave bracelet set in 18k white gold.
Kathy Bates, nominated for Outstanding Performance by a Supporting Actress in a MiniSeries/Movie for her role in Warm Springs, wore Chopard's emerald cut Golden Diamond earrings colored blue surrounded by pave diamonds, pear-shaped white diamond bracelet (19.31 cts.) and a spectacular sapphire and diamond ring (11.70 cts.) mounted in platinum.
Maggie Grace of Lost wore pieces from Chopard's Magic Carpet collection, a bracelet composed of cognac, champagne and white diamonds (26.07 cts.), cascading white diamond earrings (4.70 cts.) set in 18k white gold and another pair of white diamond earrings (6.43 cts.) set in 18k white gold used as a brooch on her gown.
Molly Parker selected to wear Chopard's diamond pave (10.14 cts.) earrings composed of a waterfall of teardrops and a cushion-cut brilliant white diamond ring.
Paula Abdul wore Chopard's white diamond (12.5 cts.) and yellow sapphire (59 cts.) cuff bracelet accompanied by a gorgeous pair of diamond drop earrings (15.6 cts.).
Adrian Greiner of HBO's Entourage wore Chopard's spectacular diamond baguette (8.25 cts.) cufflinks set in 18k white gold.
Jonathan Rhys Meyers, who was nominated for Outstanding Lead Actor in a Miniseries/Movie for his portrayal of Elvis, wore Chopard's Prince Foundation limited edition chronograph watch with black crocodile band set in 18k white gold. His girlfriend, Reena Ann Hammer, wore Chopard's yellow diamond pear-shaped drop earrings surrounded by micropave white diamonds and white diamond studs as well as their radiant-cut yellow-diamond (6cts.) ring set in 18k white gold.
Fran Drescher of the new show Living with Fran attended Emmy parties in Chopard's heart shaped diamond pave drop earrings (4.5 cts.) and a multi-strand diamond pave cuff bracelet (15.20 cts.).
Nicole Richie wore Chopard's fancy colored diamond wave bracelet (23 cts.), cognac and yellow diamond earrings with white diamond drops (11 cts.) and yellow Golden Diamond ring set in white pave diamonds.