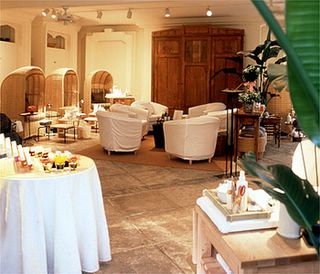 L.A. Vie L'Orange
Sweet Serenity at L.A. Vie L'Orange
L.A. Vie L'Orange
is a hand and foot spa with all the extraordinary touches. Their menu of treatments stems from ancient remedies, while implementing the most current beauty techniques.
L.A. Vie L'Orange
provides a chemical-free environment using only natural-based products and providing natural services for the hands and feet. With every treatment, they use signature products, which are created using essential oils and fresh ingredients to nourish and heal the skin. Their signature scent, cucumber orange was specifically developed for its soothing, emollient and hydrating properties.
Health is their No. 1 priority. All treatments include a full manicure or pedicure and polish. All of our equipment is sanitized through the autoclave, a specialized medical sterilization system. Customers are sent home with a personal client guard kit for maintenance between treatments. Hot towel wraps are provided in each services, ranging from basic to the most elaborate, to ensure penetration and rejuvenation for ever so important hands and feet. Their
Client Guard Take-Home Kit
, used on you alone, is yours to take home.
Celebs who've been sighted at the cozy courtyard shop include
Sharon Stone, Tyra Banks, and Oprah Winfrey
. Visit
www.lavielorange.com
for signature treatment information and products.
L.A. Vie L'Orange: 638 1/2 north robertson boulevard los angeles, ca 90069
(310) 289.2501